Apparatus
3001 & 3002 Command Vehicle
The command vehicles for 3001 & 3002 are 2014 Ford Expedition.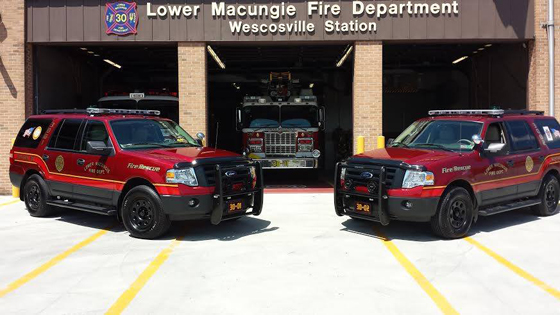 3003 Command Vehicle
The command vehicle is a 2003 GMC Yukon.
30-11 is a 2010 Spartan Gladiator with 500 gals water, class A foam, 68′ ladder with
1250 gpm master stream, 2000 GPM pump, various hand lines and CAFS.
3012: Pumper
30-12 is a 1996 Saulisbury pumper with a 2000 GPM pump
 and holds 1000 gallons of water. It carries 2000 feet of 5-inch supply hose
 and two pieces of Hurst equipment.
3031: Ladder
    30-31 is a 1993 LTI Tower with a 100-foot ladder.
 30-31 is the first due truck on all fire incidents in station 30's response area.

3041: Rescue/Pumper
30-41 is a 2002 American LAFrance Rescue/Pumper with a 1500 GPM pump and holds 750 gallons of water. 30-41 carries Hurst rescue equipment and is capable of running five rescue tools at one time. It also carries 2000 feet of 5-inch supply hose.
3051: Fire Police
30-51 Is used by Lower Macungie Township Fire Police. It is used to transport there equipment they need to support the fire company with traffic control.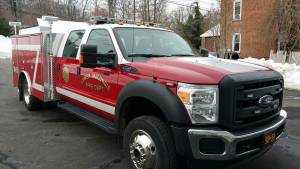 3091 & 30-92 Special Response Units
30-91 is a 2009 GMC 5500 equipped for handling hazardous material calls. 30-92 is foam trailer with 650 gallons of foam, and specialized equipment for responding to flammable liquid fires.